Block Island House
Summer Rental by Owner
bi661.com
661 Minister's Lot
off Corn Neck Road
New Shoreham, R.I.
designed by Peter Vercelli, Architect

Owner: Jane Anderson Vercelli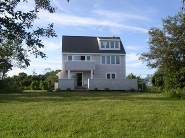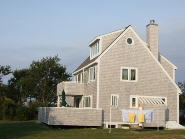 P
eter and Jane Vercelli bought a cottage on Block Island in 1973 in Minister's Lot, near Corn Neck Road. Peter renovated the cottage in 2003. The house is available for rent by the week in summer.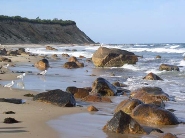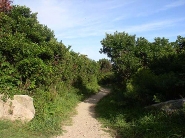 Block Island House Summer Rental by Owner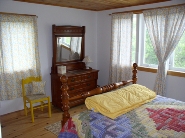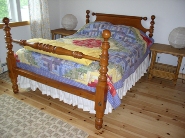 2020 Availability:
Sunday, July 5 - Sunday, July 12
Sunday, July 12 - Sunday, July 19
The price is $4,500 per week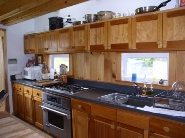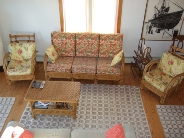 > Location: Ministers Lot Road, off Corn Neck Road, on the northern side of the island
> Renovated in 2003 by owner/architect Peter Vercelli
> Serene location is quiet and perfect for children
> Walk to Mansion Beach in just a few minutes down a sandy lane
> Four twin beds and one queen bed with bedding provided
> Two full bathrooms with towels provided
> Bedding and towels are from Garnet Hill, Company Store, LL Bean, Lands' End
> Fully equipped galley style kitchen on first floor
> Dining room on first floor adjacent to kitchen
> Outdoor gas grill and outdoor charcoal grill
> Washer and dryer in basement laundry room
> Outdoor shower
> Clothesline
> Second floor balcony
> Outside deck with outdoor dining table and chairs
> Hardwood floors throughout and tile floors in bathrooms, kitchen, basement
> Living room on second floor with cathedral ceiling and lots of sunlight
> Loft on top floor for reading, writing, relaxing
> Links to outside world: Satellite TV (DirecTV) and WiFi (Verizon DSL)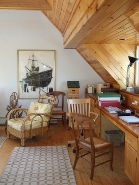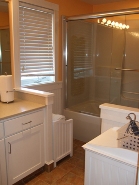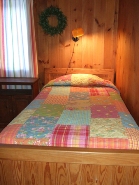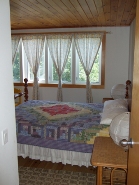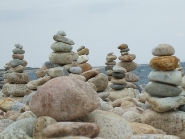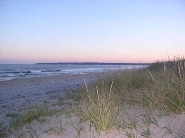 Jane Anderson Vercelli is a former news reporter for the Associated Press, UPI, Waterbury (Conn.) Republican, the Newtown Bee and the Block Island Times
.
---
Jane Vercelli P.O. Box 433 Thompson CT 06277
E: janevercelli@gmail.com